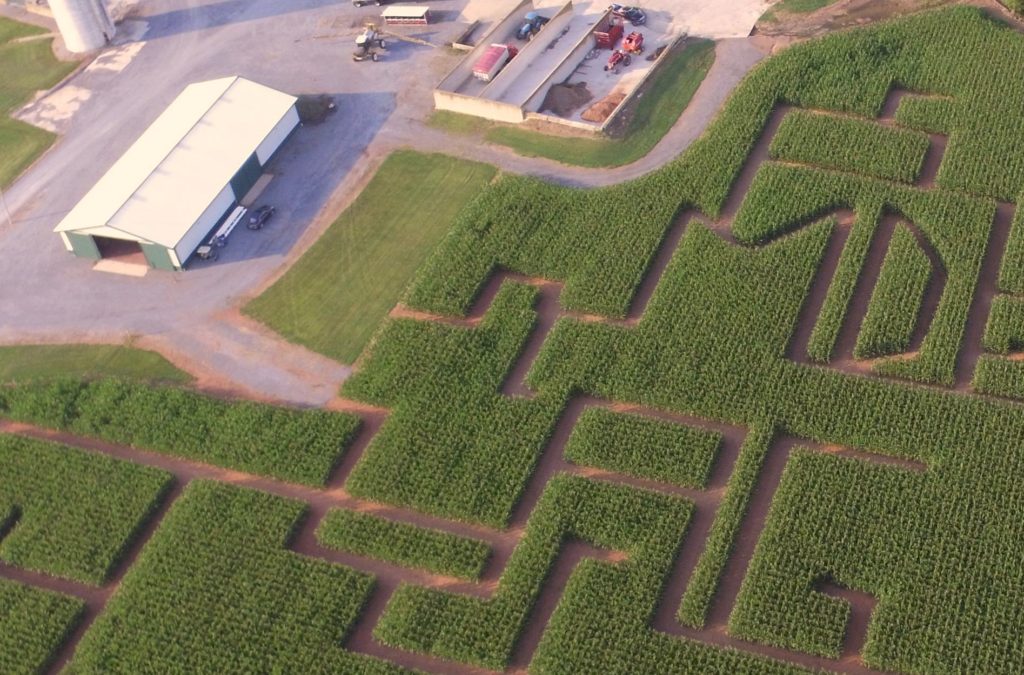 Our Corn Maze is unique for several reasons.
First, it's kid-friendly. The Corn Maze covers six acres and you can wander around it for 30 minutes to an hour. Families enjoy it because it's simple and includes a scavenger hunt where you can find puzzle pieces at nine different stations. If you collect all nine pieces, you've successfully completed the Corn Maze, the scavenger hunt, and you'll be able to put the puzzle together!
Finally, we donate 100% of the proceeds from the Corn Maze to charities that matter to our family. We like to call it "Corn Maze 4 a Cause".
When you pay for your Corn Maze admission, you get to choose which cause you want to support. We hope you'll find joy in giving!
Cost
FREE // Children (under 2)
$2.50 // Children (ages 2 – 12)
$5.00 // Adults (ages 13+)

Our 2018 Causes
To be determined.

Our 2017 Causes & Results
Judy Ramsburg Memorial Scholarship [$1,000 raised] Our family has set up a scholarship through the Community Foundation of Frederick County in memory of our beloved daughter, sister, and aunt–Judy Ramsburg. Judy brought joy to everyone she knew. She loved to laugh and spend time with her friends and family. It is our hope that this scholarship will bless others as Judy blessed our family. The fund will provide scholarships to residents of Frederick County who attend Frederick Community College. Select this cause and your corn maze admission goes directly to scholarship fund.
Cleveland Clinic's Endocrinology and Metabolism Institute [$2,200 raised] In 2016, three members of our immediate family were diagnosed with a rare genetic condition called Multiple Endocrine Neoplasia (MEN) 2A that causes thyroid cancer, parathyroid disease, and adrenal gland tumors. Since it is such a rare condition, we were blessed to find Dr. Eren Berber (Cleveland Clinic) who could provide ongoing treatment and care for Sam, Julie, and Bailey. As an endocrine surgeon at the #2 hospital in the United States, Dr. Berber uses amazing technologies in robotic endocrine surgery. We are grateful to live in a country where healthcare is accessible and where medical technology is always developing and improving. Select this cause and your corn maze admission will benefit Dr. Berber and his department at the Cleveland Clinic.
Wounded Warrior Project [$1,415 raised] – We salute those who are veterans and current members of the Armed Forces. Sam's brothers, Scott and Steve, as well as other members of the Roop family, have been on the front lines, protecting our country and fighting for our freedom. To honor all those who serve in the military, we've selected the Wounded Warrior Project as another cause. Their mission is to honor and empower wounded warriors by helping those veterans and their families who incurred a physical or mental injury, illness, or wound during their military service after the tragedy of 9/11. Select this cause and your corn maze admission will support this patriotic organization.
Hurricane Relief Efforts in Texas and Florida [$1,400 raised] This summer, we witnessed Hurricanes Harvey and Irma wreak havoc in Texas and Florida.  These natural disasters caused so much loss and destruction. Select this cause and your corn maze admission will help get Texas and Florida residents back on their feet.  We've chosen Lutheran Church Charities' Disaster Relief Fund as the recipient of these designated Corn Maze dollars.  We like that their policy is "Every Dollar In–Every Dollar Out" which means that 100% of the money they receive goes toward relief efforts.
The Religious Coalition of Frederick County [$2,100 raised] Founded in 1981, The Religious Coalition of Frederick County has been providing those most at risk in our community with emergency shelter for homeless adults and families, healthcare assistance to the uninsured, utility assistance, homeless prevention programs, and food assistance through local food banks. Select this cause and your corn maze admission will support The Religious Coalition of Frederick County's main goal: to eradicate homelessness in Frederick County.